Guests for 2013
JOHNNY YONG BOSCH
 Johnny is a man known for his many talents. From acting both on screen and as a voice actor, his work as a martial artist, and as a musician, Johnny is definitely a jack of all trades! A few of his projects asides from his voice acting career include his role as Adam Park in Mighty Morphin Power Rangers, and as the lead singer for the band Eyeshine.
Some of JYB's more popular roles as a voice actor include: Ichigo Kurosaki from Bleach, Vash the Stampede from Trigun, Lelouch Lamperouge from Code Geass,  Sasori from Naruto: Shippuden, Cress Albane from Tales of Phantasia: The Animation, Izaya Orihara from Durarara!!, Yukio Okumura from Blue Exorcist, and Itsuki Koizumi from The Melancholy of Haruhi Suzumiya.
In video games, he has voiced popular characters such as Fugue in Eternal Sonata, Guy Cecil in Tales of the Abyss, Yu Narukami in Persona 4: Arena, Zero in Ultimate Marvel vs. Capcom 3, Yang in Super Street Fighter 4, Emil Castagnier in Tales of Symphonia: Dawn of the New World, and Nero in Devil May Cry 4.
STEPHANIE SHEH
 Stephanie has been involved in the anime industry in many ways, from acting, writing, directing and producing. Her works include Attack of the Show, Bang Zoom Entertainment, Bandai Entertainment, FUNimation, and many others.
Stephanie's many voice talents can be heard in series such as Hinata Hyuga from Naruto/Naruto Shippuden, Akira Kogami from Lucky Star, Mamimi Samejima from FLCL, Mikuru Asahina from The Melancholy of Haruhi Suzumiya, Wendy Garret from Gun X Sword,  and Orihime Inoue from Bleach.
In video games, she has voiced such roles as Arche Klein in Tales of the World: Radiant Mythology, Eyrs Jerand in Star Ocean: First Departure, Kyrie in Devil May Cry 4, Corselia in Suikoden Tactics, Hanako in Disgaea 2: Cursed Memories, Natalia Luzu Kimlasca Lanvaldear in Tales of the Abyss, and Rebecca Chambers in Resident Evil: Umbrella Chronicles. 
MICHAEL SINTERNIKLAAS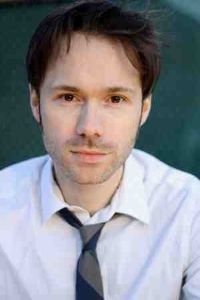 Although Michael is probably best known for his role as Dean Venture from The Venture Brothers, he has also had various roles as a director and a script writer. He has provided various voice roles for such companies as Geneon Entertainment, 4Kids Entertainment, Bandai Entertainment, FUNimation, Media Blasters and Viz Media.
Asides from his previously mentioned role as Dean Venture from The Venture Brothers, he can also be found as Leonardo from Teenage Mutant Ninja Turtles: Turtles Forever, Kenji Koiso from Summer Wars, Satoshi Osugi from Eden of the East, Christopher Thorndyke from Sonic X,  Trey Racer and Orona from Shaman King, Tunnel Rat from G.I. Joe Sigma Six, Xellos from Slayers Revolution and Slayers Evolution-R, Mahad from Yugioh! Duel Monsters, and Ivan Karelin/Origami Cyclone from Tiger and Bunny!
EYESHINE
Formed in 2004 by front man Johnny Yong Bosch and Maurice Salmin, Eyeshine first found success in 2006 with a unique blend of pop punk and post grunge called Edge Rock. The band gained a modest audience with its debut EP, "How About That" and their first full length album, "Red Stripes White Lights" but it was their sophomore effort, "My Paper Kingdom" that officially opened the flood gates in 2009. MPK featured their award winning song, "ALONE," whose honest and simple lyrics made a connection to a steadily growing fan base. The band has continued to self produced 7 more albums: "Tone Of Echoes" (features the Elfenworks Foundation sponsored song "Hope Is So Far Away"), "Afterglow" (acoustic album), "Sonosis" (instrumental album), "Sansvox" (karaoke album), "XMAS" (Christmas album), their latest album "Revolution Airwaves," and their latest acoustic album "Like Yesterday."
DOUG SMITH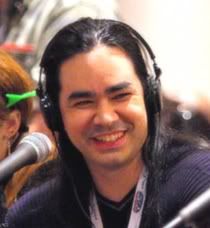 Doug Smith is an accomplished artist and voice actor for several roles for ADV Films and Funimation Entertainment. He's well known for his lead role in Goldenboy as Kintaro Oe. He has done several supporting voice roles for Case Closed, Bubblegum Crisis Tokyo, Street Fighter 2, Fire Emblem, Neon Genesis Evangelion, Dragon Knight, Slayers, Blue Seed, and Those Who Hunt Elves. One of his lesser known but more powerful roles that of Squeebo, the poor blind orphan in the OVA series "Splendid Eyeball Gremulak", which, unfortunately for fans everywhere, doesn't actually exist.